Press Coverage of Bisphenol-A (BPA) and Nalgene Polycarbonate Bottles
April 18th, 2008 by Lee Eldridge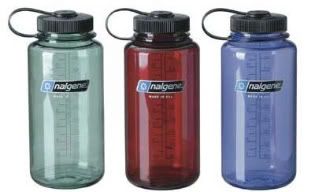 Product safety is incredibly important to us, and we do everything we can to offer only the safest products available. We've been attending seminars and discussing issues related to product safety and promotional products with our industry suppliers and leaders. The more that we understand about our products, the better job we can do of choosing the best products to offer on our site.
Well, this appears to be the perfect time to kick off a new Product Safety section of the Absorbent, Ink. blog. With the recent press coverage of Bisphenol-A (BPA) and Nalgene Polycarbonate Bottles, our Client Services Department has already been answering a handful of related questions from our customers.
It's always interesting to watch a story take on a life of its own. Despite the fact that agencies such as the FDA, EPA and the European Union have repeatedly researched and investigated Bisphenol-A, and have approved of its use, on April 9th, the Today Show featured a story expressing concerns about the use of BPA in plastics. Unfortunately NBC's coverage was less than totally accurate as discussed here by the American Chemistry Council:
http://www.americanchemistry.com/s_acc/sec_news_article.asp?CID=206&DID=7226
But this isn't a new story. This has been bubbling around for a few years. California had been considering a ban on certain substances including Bisphenol-A in 2005 with Assembly Bill Number 319. Here's an article from the Canada Free Press concerning the science behind the reports at that time:
http://www.canadafreepress.com/2005/milloy042505.htm
California ended up removing Bisphenol-A from their legislation, as did Maryland and Minnesota, who were considering similar legislation:
http://www.bisphenol-a.org/whatsNew/20060412.html
Yesterday, the American Chemistry Council sent a letter to the FDA asking them to clarify and update their position on BPA in order to help alleviate consumer concerns:
"An updated review of bisphenol A in food contact applications, led by the premier food safety agency in the United States – the FDA – will help explain the extensive scientific review that has already been conducted on this compound. And this review will allow the agency to issue the most recent evaluation of all the science, and all agency reviews to date, quickly and in a way that is understandable to the public. We believe that an update by FDA, accompanied by a clear communication from the agency about what the science means, is needed, and ask FDA to move forward promptly with this review. It is important that FDA move as quickly as possible to undertake this review, since the results, regardless of outcome will help better inform the public."
http://www.factsonplastic.com/acc-calls-on-fda-to-update-review-of-bisphenol-a/
The plastic industry's position has been consistent: Bisphenol-A has been well tested and has repeatedly been shown to be safe by virtually every major institution that has researched this issue:
http://www.bisphenol-a.org/human/polyplastics.html
Today MSNBC has reported that Nalgene will be changing their popular line of polycarbonate sports bottles to a new BPA-free material:
http://www.msnbc.msn.com/id/24200402/
The story reads as if Nalgene is recalling their products. They are not. Once again, less-than-stellar journalism has raised consumer fears. Nalgene is doing what other smart businesses have done for years: responding to customer concerns. We have been in contact with Nalgene, and we have been told that they will soon be making their popular sport bottles out of a BPA-free material called Tritan copolyester. This happens to be the same material that Camelbak uses for their bottles.
For more information directly from Nalgene and their plans to phase out their line of polycarbonate bottles:
http://www.nalgene-outdoor.com/
Even Camelbak, who has already been producing BPA-free products, was affected by this recent uproar. Since the Today Show misidentified all #7 plastics as containing BPA, Camelbak will be removing the #7 from the bottom of their bottles.
http://www.camelbak.com/index.cfm
This reaction from Nalgene and Camelbak has reminded me of the time Mars stopped making red M&Ms. From Wikipedia:
"The red candies were eliminated in 1976 due to health concerns over the dye amaranth (FD&C Red #2), which was a suspected carcinogen, and were replaced with orange-colored candies. Despite the fact that M&M's did not contain the dye, red M&M's were removed to satisfy worried consumers. By 1987, the public had forgotten the scare, and the red candies were reintroduced, but they also kept the orange colored M&M's."
http://en.wikipedia.org/wiki/M&M's
On a related note, we have recently added the BPA-free Camelbak bottles to our line of sport bottles:
http://www.absorbentprinting.com/drinkware/sport-bottles
We will continue to monitor research on Bisphenol-A. We're certainly not scientists, so we rely on common sense and the best information available by the scientific community at large. At this time we will continue to offer products that may contain small levels of BPA. We will also continue to research and add more BPA-free versions of our sport bottles for concerned consumers.
Tags: Product Safety
Posted in
Product Safety